Here Stadiafile presents our rundown of the year's 10 best new stadiums…because that's what we do at the end of the year… and we look ahead to what's in store in 2013, which will be the Year of the Brazilian Stadium. This was an exciting year for Stadiafile, with the birth of our blog project marking a big year for stadiums worldwide. The London Olympics and the Euro Cup in Poland and Ukraine brought with them a slew of new stadiums, while a number of significant new venues also opened in the US, Europe and Latin America.
1. 2012 Summer Olympics. London, UK
Our global sports calendars now function on two-year cycles with the Olympics, Euro and World Cups coming every even year, bringing the planet a host of new sports venues. The questionable foresight of building so many sports facilities for a temporary event has been well documented and for this reason the venues for the 2012 Summer Games in London were most remarkable. This was the first games ever to fully embrace temporary structures for its venues and Populous, Zaha Hadid, Hopkins Architects among others turned out some gems. The 80,000-seat Olympic Stadium was originally designed to convert to a 25,000-seat soccer stadium, the Aquatic Center is currently being downsized to a 2,500-seat facility and in doing so revealing its intended dynamic form, the Basketball and Hockey Arenas were fully temporary venues to be rebuilt for the Rio 2016 Olympics and 2014 Glasgow Commonwealth Games respectively. The Velodrome will be home to the British indoor cycling community, the Handball Arena is being converted to a community sports facility and the Olympic Park itself is currently being converted to serve as a public park for years to come, due to reopen in July 2013.  In taking this clear standpoint on the Games and their future for London, the 2012 Games and its stadia became landmarks for their innovative and markedly sustainable approach to large sports festivals.

2. Barclays Center. Brooklyn, NY
For the first time since the Brooklyn Dodgers left this great Borough for the West Coast and Ebbets Field was removed from its loving community, a professional sports facility now exists again in Brooklyn. After many delays, alternative design schemes, architects and community protests, developer Bruce Ratner and architects SHoP and Aecom/Ellerbe Becket produced something wonderful, bold and progressive for Brooklyn and the sports architecture world at the corner of Flatbush and Atlantic Avenues in Brooklyn. The corten steel-clad building is accessed by virtually every subway train line in the city and features a public plaza beneath a videoboard-clad occulus. The Brooklyn Nets call this building home and one wonders what impact this high class building will have on this extremely mediocre franchise.
3. Marlins Park. Miami, FL
This new 37,000-seat stadium for the Miami Marlins is an aggressive play by Marlins owner Jeffrey Loria and architects Populous to create a sleek, modern, yet quirky baseball facility. The abstract modernism of the white stucco and black glass exterior and the supports for the hulking retractable roof above echoing the local Miami palm trees contrast with the polychromatic interior color scheme and art program. While the whole of Marlins Stadium is sadly less than the sum of its parts, the ambition of the design intent is encouraging, considering the neo-traditional rut baseball stadium design has been stuck in for the past twenty years.

4. BBVA Compass Stadium. Houston, TX
This 22,000-seat home for the Houston Dynamos of Major League Soccer (MLS) sits just east of downtown Houston, across the ring road from the Houston Astros' Minute Maid Park. This new soccer-only building is one example of a number of new buildings for MLS franchises that had previously been forced to share space with local (American) football clubs, since the inception of the league. The Populous-designed soccer stadium features a triangulated metal mesh and orange exterior evoking the site's industrial past. This modern, intimate, iconic stadium marks a new type of sports facility in the US which are equal to the task of housing the growth of soccer in America.
5. Pauley Pavilion Renovation. Los Angeles, CA
One of the country's meccas of college hoops, NBBJ was enlisted to give the 45-year-old building a face lift. A sensitive design approach was taken to preserve the general look and feel of the arena that has housed ten National Championship teams. With its new locker rooms, wider concourses, new LED video boards and 1,000 new seats, the total capacity of Pauley Pavilion is now 13,800. This renovation project continues a recent trend of traditionally strong college basketball schools resisting the allure of building larger, off-campus professional arenas and instead renovating their existing on-campus arenas – University of Michigan's Crisler Arena and Duke's Cameron Indoor Stadium.

6. Grand Stade Lille Métropole. Lille, France
For a long time, French football stadiums were remarkably smaller and less impressive than other European counterparts. While English, Spanish and German stadiums raced ahead in both size and design ambition, French grounds were stuck in a previous era. That is all changing with the 2012 opening of Grand Stade Lille Métropole, the new Pierre Ferret-designed 55,000-seat retractable roof home for Lille Olympique Sporting Club (LOSC), while in 2013 Olympique Lyonnaise will move into their new, 60,000-seat, Populous-designed 'Grand Stade' in Lyon. New buildings for Girondins de Bordeaux and upgrades for Olympique de Marseille are to follow, so that France's top league will soon have some world-class venues to call home.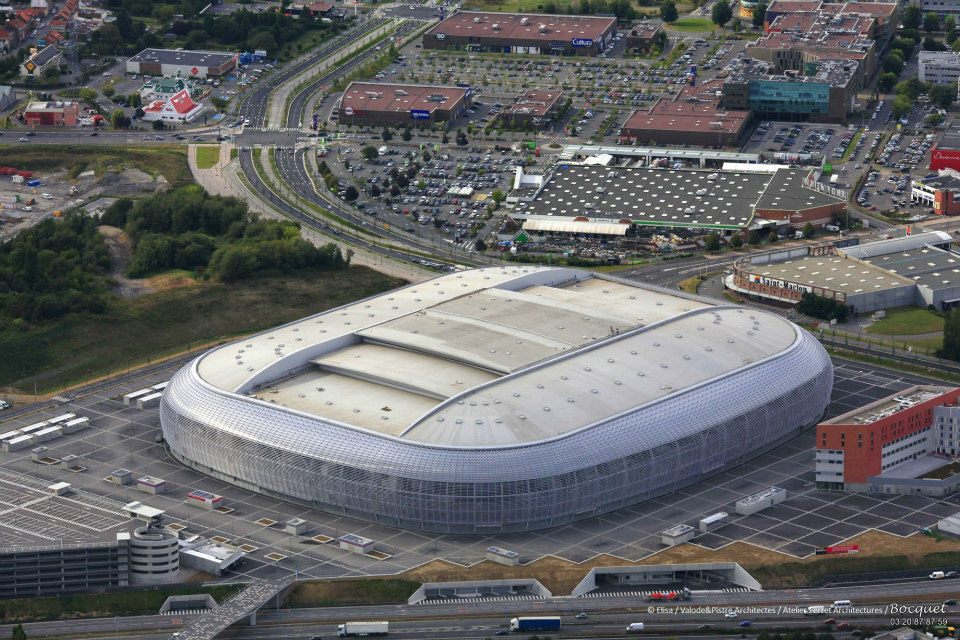 7. Friends Arena Swedish National Stadium. Stockholm, Sweden
The new Swedish National Stadium, Friends Arena, is a 50,000-seat, three-tiered, retractable roof stadium much in the mold of the Lille's Grand Stade. Scandinavian firm CF Møller designed the new Friends Arena which replaced the historic Råsunda Stadium and is home to both the Swedish National Football Team and Stockholm powerhouse AIK. Naming rights for the building were bought by Swedbank who admirably decided to rename the building after a charity that supports anti-bullying in Swedish schools.
8. National Stadium (Stadion Narodowy). Warsaw, Poland
The new home for the Polish National Football team is a 58,000-seat stadium in the capital city of Warsaw designed by a consortium led by  Warsaw based JSK Architekci. The stadium features an iconic red-and-white painted (Polish national colors) metal mesh panels that can be illuminated at night, as well as a retractable PVC roof that springs from a position centered above the pitch. The membrane roof can only be opened, however, in temperatures above 5 °C and not during rain, which factored into the ill-fated decision not to close the roof prior to the England-Poland match on October 16 2012. An impressive stadium, exterior and roof despite this slight design deficiency. 
9. Grêmio Arena. Porto Alegre, Brazil
2013 will be the Year of the Brazilian Stadium with major overhauls of the legendary Maracanã in Rio de Janeiro and Arena Corinthians in São Paulo in preparation for the 2014 World Cup. Remarkably, the recently completed 60,000-seat home for Grêmio Football Club in Porto Alegre is not a World Cup venue. Brazilian firm PLARQ designed the multi-purpose stadium located near Porto Alegre Airport, part of a larger plan to include hotels, condominiums, a shopping mall and parking. Although it won't be used for the global football tournament, the ambition and apparent success of building Grêmio Arena will hopefully ease any concerns that the other stadiums won't be ready in time for the World Cup.
10. Stadiafile
And finally, 2012 saw the launch of Stadiafile, whose aim is to provide a platform for critical writing, critique and celebration of sports venues past and present. We are encouraged by our first 50 posts and over 16,000 views in the six months since launching in July 2012. We pledge to keep it up in the New Year with a host of new stadiums to explore, and we look forward to you continuing to read and follow along in 2013. Your comments and suggestions of stadiums to review are always welcomed – please post them below!